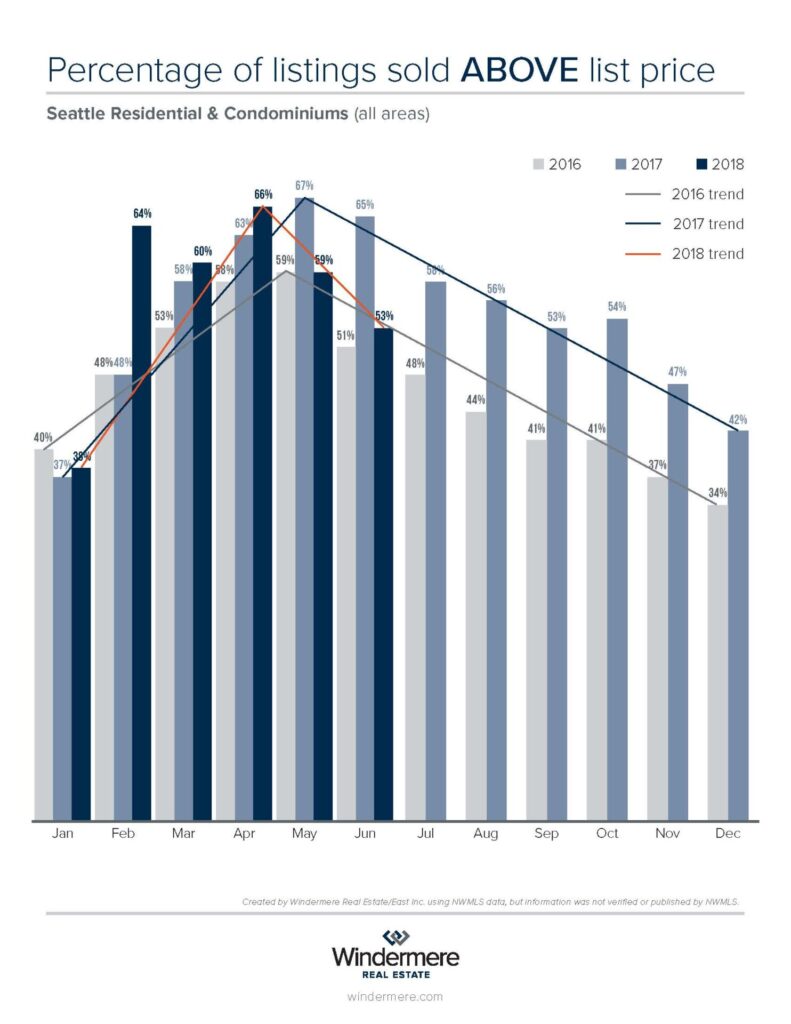 We have all seen the news media articles over the past few weeks reporting that there has been an over 70% increase in our current market inventory, that the market is slowing down or that there is another recession coming, and so on. If you are a seller, let's not panic or get into modes of desperation just yet.
We have to keep in mind, we see a seasonal slow down every year in our market during mid-summer (due to factors such as buyers and their agents being on vacation and sellers putting their homes up for sale at a higher rate in order to move before the school year starts, etc. – see photo for seasonal trends), so I wanted to chime in and speak to what I am actually seeing out here.
We are seeing, what I would call, a shift in the mindset of buyers. There are less multiple offer scenarios on both condos and single family homes as well as a lot of buyers doing more of a wait see approach to the offer review dates. This is quite opposite of what we were seeing earlier in the spring, which was a very aggressive approach of doing pre-inspections, waiving all contingencies, and being willing escalate well above list price. Also, there is a significant increase in the inventory. Homes and condos are still selling, but they are going into contract slower than they were in the spring.  We are also seeing the percentage over list price not being as aggressive. This will apply to most neighborhoods of Seattle, and appears to happening in most price segments as well.
Now, does this change how I, as a broker, might approach the market? Yes, of course, our strategies must change with adjustments in market conditions. But does this mean we are in a changing market or a just a slightly more aggressive seasonal slowdown? I'm not sure yet. But my sense is we have some slowing due to general buyer fatigue and frustration and increased summer market inventory from sellers who are trying to ride the coattails of the spring sales pricing. Sadly, we are also seeing a lot of homes that just aren't presented well, such as not being in the best of condition, poor quality flips, or disadvantaged locations, etc. These condos and houses might be too aggressively priced by sellers and agents that are just too optimistic that the hot market will have buyers buying anything they can. The buyer fatigue is stalling sales on homes that simply aren't properly prepped and priced for the summer market conditions. I do think that these factors are causing some lethargic market conditions right now that are affecting even those homes and condos that are spruced up and ready to sell as the mere fear of a slowing market will cause more slowing in the market.
I'm predicting that the market will absorb, although slowly, the summer inventory and we'll see a bit more of the frenzy return in the fall when buyers and their brokers are returning from vacations and ready to be realistic and get back to the market.
Timing is everything, and we might have missed a bit of a window for some sellers, so holding off until fall might be a new thing to consider. If you are thinking about selling, make sure you are realistic about how long it will take to sell your home and what price you are likely to get.