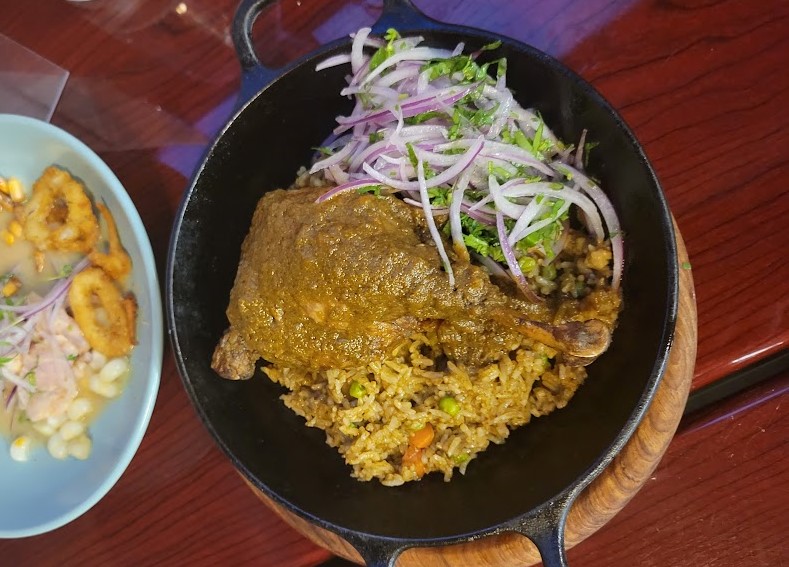 While making dinner plans with friends, they mentioned we should try Senor Carbon Peruvian Cuisine in Pioneer Square and aren't we glad they did!
The food was incredible. Such bold flavors. It is a fun fusion between Peruvian and Japanese flavors and foods. We sampled a ton of food and nothing was a miss. We asked for recommendations and simply ordered whatever was suggested and it was all excellent. We tried a few appetizers and the Causa Crocante Nikkei (mashed potato cake topped with tuna tartare) was our favorite and was stupid good. For ceviches we got two types, the Clasico and the the Ceviche de Atun Nikkei kicked up to spicy. Delish, fresh, crisp. The main dishes we shared were the Arroz con Pato (duck leg served over rice – pictured) and Pulpo a la Parrilla (grilled octopus and veggies) and wowza! The beverages were also great. We sampled the Pisco Sour, Maracuya Sour, the Shilcano de Maracuya and the Algarrobina. All of these drinks are made with pisco, which is not a spirit we drink regularly, but after trying these drinks, we will be drinking a lot more of!
We cannot wait to go back to Senor Carbon!