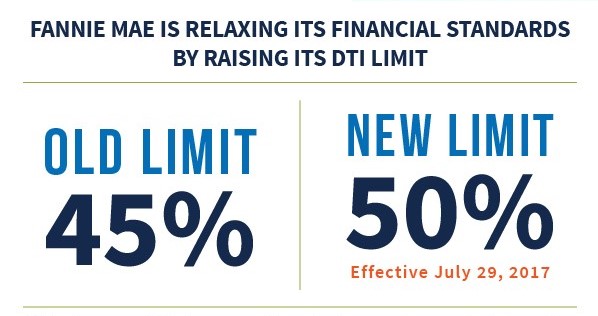 Fannie Mae Eases Up on Debt Requirements
We just heard from our colleagues over at Cornerstone Home Lending that Fannie Mae eased up on its financial standards by raising the acceptable debt to income limit needed to qualify for a loan from 45% to 50%.
Debt to income (DTI) is a big factor in qualifying for a mortgage. Generally, a low DTI is a good indicator that the borrower can handle a monthly mortgage payment in addition to their monthly debts. This is why Fannie Mae looks closely at this number and this change can help buyers out there who were just above the old limit to qualify for a mortgage, and may help others qualify for a larger loan allowing them to be more competitive in our challenging Seattle market.
If you are a buyer who couldn't qualify for a mortgage due to a high debt to income ratio, now would be a great time to get back in to see your lender and chat through your qualification to see if this higher limit of 50% might be just the change needed to get your qualified. Have questions? Need to be connected with a lender? Ping us!